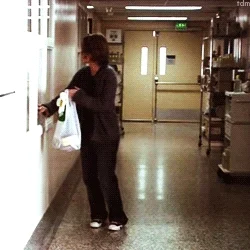 This was how I felt yesterday. EVERYTHING was beginning to cave in on me after the past two months and I felt I was in SERIOUS melt-down mode!! Friday I received a weird voicemail from a guy with Edward Jones saying he had some information about the office I do business with. When I tried calling him back, I just got a recorded message. I logged into my local office's website and this new guy's face was up there, not MY guy!!! I had NO CLUE what was going on. And it was raining cats and dogs!

It rained and rained and showed no signs of stopping. And it DIDN'T!! Then it rained more and everytime I looked out the window, it was still raining! We got 4 1/4" here in less than 24 hours. I did finally talk to my guy and he left Edward Jones and moved to a different company but rules wouldn't let him advise his clients until a certain period of time happened and things were in place. GOOD GRIEF, I didn't care which company he was with, I just wanted to stay with him. We started with him before Frank died and he's taken really good care of my finances so there was no way I was letting him get away! But before I talked to him and while it was still torrentially raining, I was just DONE! Quarantining is hard but it's even harder when doing it alone. SO alone.

So I think my guy has all the info he needs in order to transfer my funds into his care so that has helped. And it QUIT RAINING! HOORAY!! Hopefully things will begin to look up and we can begin an even steadier return to normal!!